Trump-era steel tariffs continue to affect steel rates today. While tariffs represent potentially high profit margins for U.S. raw material steel manufacturers, record-high domestic steel prices present challenges for metal fabricators who rely on the raw material. Many buyers have already begun seeking alternative sources from outside of the country.

This domestic supply/demand imbalance, coupled with a pandemic-related supply/demand imbalance overseas has led to a record increase in the cost of steel, as well as a supply shortage. Companies are left with a difficult decision: whether to absorb the price increase or pass it along. The uncertainty has led to new calls for the current administration to end the former President's steel tariffs.


Steel Consuming Manufacturers Grapple With Supply/Demand Challenges

Despite shortages in raw materials, an increase in customer demand during the pandemic has created unique challenges for many companies. Two such companies are a California-based aerospace parts maker, struggling to procure cold-rolled steel, and an Indiana auto and appliance parts manufacturer that is running into shortages of hot-rolled steel from mills.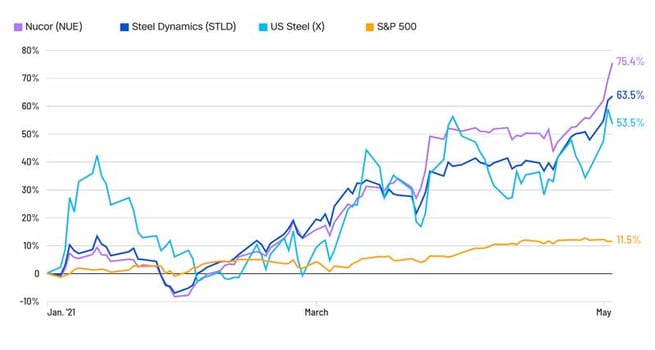 Source: Refinitiv | Graphic: Tal Yellin, CNN (Note: Data as of May 5, 2021)
Customer Demand Increase
The Indiana manufacturer, which saw a 50% decrease in orders during the pandemic, has now reported an increase of 25% above pre-pandemic levels. Elsewhere, CRU, the parent company of Steel Market Update, reports that steel consumption has bounced back at a faster pace than available supply. According to CRU estimates, mill capacity increased nearly 18% by fourth-quarter 2020 from second-quarter levels. Meanwhile, apparent net consumption rose 21% over the same period.
Raw Material Supply Shortages
The California manufacturer, meanwhile, risks losing lucrative annual contracts with its clients, as it struggles to find a cold-rolled steel supplier that can meet the increase in demand. Long lead times for raw materials continue to be an issue. Steel that used to arrive in eight weeks, just last year, now can take up to 4 months to arrive.
Rising Steel Prices Lead To Imported Materials
Steel prices in the U.S. are currently 68% higher than the global market price and almost double the price for the commodity in China. That figure is astounding, given that prices in both Europe and China are up over 80% from their pandemic-induced shortages. Even with a 25% tariff, the price gap is so wide that U.S. manufacturers are finding it cheaper to import steel overseas, with 18% of U.S. steel coming from imports over the last year.
These manufacturers may experience some logistical challenges, like container shortages, and a thin overseas supply. However, some distributors expect imports to pick up by the summer, especially if the domestic market remains tight.

Raw Materials Steel Manufacturers Weigh-In
Meanwhile, for steel producers within the U.S., record-high steel prices have led to crucial profits. According to an analysis from the credit reporting agency, Fitch, domestic steel makers enjoyed a 45% profit margin in January. Union groups and domestic producers have urged President Joe Biden to maintain the current steel tariffs, as rising scrap and iron ore prices have contributed to higher costs to domestic producers as well.
Uncertainty Over Tariff Outlook
Some steel distributors await an expected review of the current steel import restrictions, causing a delay in production and a build-up in inventories. They maintain that an easing of the restrictions will lead to a decrease in domestic prices. Those distributors don't want to be locked into higher-priced raw material steel before the Biden administration has a chance to review the issue.

Maloya's Strong Supply Chain
One of the ways that Maloya Metal Fabrication & Manufacturing stands out among the competition is our ability to produce quality results for your project, which is a result of our strong supply chain and raw material inventory management system. We have solid vendor relationships that grant us access to the highest quality raw materials at the best possible prices, even in today's quick-changing materials market. We easily transform these raw materials into the best version of your desired end goal. As a Maloya customer, you benefit from our leveraged buying power so you enjoy both competitive pricing and short lead times. Discover these benefits first-hand.

We thank our customers for their support over the years and welcome our new customers with open arms. With your help we can get your quote - and your product - out faster.