In the world of metal manufacturing, CAD 3D modeling has become a necessity for bringing your
project to life. There are several benefits to producing a 3D printed model of your desired project
before the manufacturers get to work. CAD 3D modeling has become so prevalent that companies
are using their printers to gain business.


Benefits to CAD 3D Modeling and Printing

The following are some of the most important reasons CAD 3D modeling and printing is vital to a complete project realization.
CAD 3D modeling and printing ultimately helps the manufacturer visualize the final project and understand exactly how to fabricate it in the process. It also benefits the client, as it allows them to see sections of the project, including challenges for the manufacturing process.

The manufacturer can 3D print a single section, within a larger project, if the client has requested to see only a small portion. Some specific pieces can even be used as a fit-and-form prior to making the final metal part. Clients can use the printed 3D CAD model to see how well the piece would work or look in action. This is a huge benefit to both the client and the manufacturer.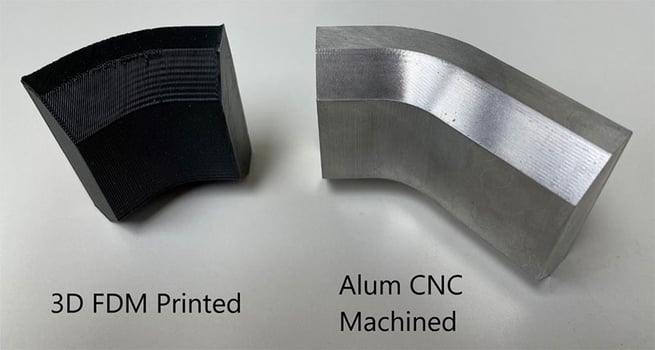 3D printed part for a custom railing project to confirm the angle fit at the project site before the part is machined
---

Clients will be interested to see their project come to life in 3D form before the actual metal project is made. The client will have the opportunity to touch and feel the project while gaining an understanding about how the project will end up. The printed 3D CAD model provides an opportunity to show each aspect of the project. Every angle and complex feature can be seen in the 3D model. After the 3D model is complete, there can be clear communication between the client and manufacturer to determine if anything needs to be changed. The client will understand exactly what their project will ultimately look like in order to ensure complete satisfaction in its final form.
CAD 3D modeling and printing helps reduce mistakes by the manufacturer.
When a manufacturer attempts to bring a project to life, they will understand exactly how the project will look. Mistakes are less common with CAD 3D modeling and printing, because the 3D model gives the manufacturer an exact replica.
CAD 3D modeling and printing helps companies reduce the amount of time it takes to complete the project and provides cost saving to complex part geometries.
When manufacturers are able to see the design's physical properties in a printed 3D CAD model, they are able to understand the exact techniques they will need to use. This will help manufacturers plan ahead and understand what needs to be done. With a comprehensive understanding of the techniques involved, the manufacturer can shorten the time it takes to complete the project.
There is a misconception that CAD 3D modeling and printing takes a very long time. In reality, 3D printing can be done overnight; therefore, it doesn't take up any extra time. 3D printers can run in a "lights-out" format and will print without the need for continuous human intervention.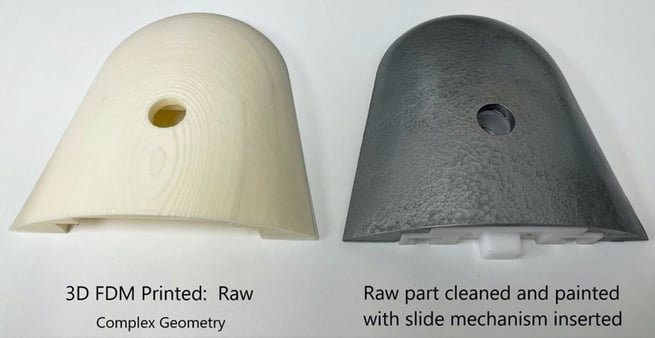 Because of the complex geometry and low volume, the part was 3D printed and painted instead of CNC milling or molding it.
---

As an added bonus, companies can use their printed 3D CAD models for marketing and advertising purposes.
After creating a printed 3D CAD model for a client, your company will be able to keep the model and show other clients what you were able to bring to life. This will provide your potential clients with a physical representation of what your company is able to do. As your number of 3D models grows, your company will be able to create a small library of past projects that can be displayed for new clients.
Maloya Offers CAD 3D Modeling and Printing for Your Project
In summary, CAD 3D modeling and printing can be a very useful tool for both manufacturers and their clients. There are several benefits to printing a model and seeing it in 3D form before manufacturing begins. Maloya Laser is a proud owner of 3D printers and has been using them to help their business flourish. If you are looking to see your project come to life before we even start manufacturing, contact Maloya, we would love to do business with you.
We thank our customers for their support over the years and welcome our new customers with open arms. With your help we can get your quote - and your product - out faster. Contact us today.