Why Metal Canopies?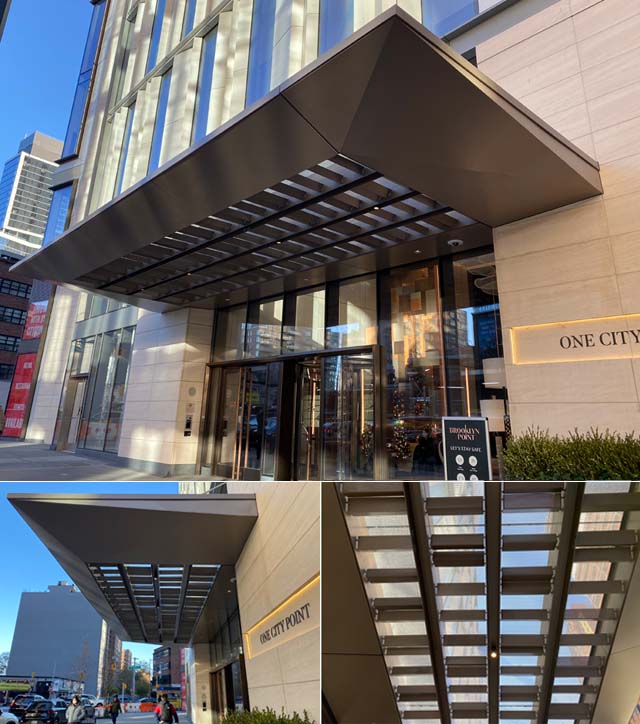 Metal canopies and awnings can create an architectural statement and communicate character and style while providing energy saving protection from the elements.
In addition, there are many ways that metal canopies can boost the curb appeal of a business and attract people to a business location. They create shaded sections for outdoor cafes, protected entrances for buildings and covered walkways for employees, guests, and shoppers to use during rainy weather and summer heat. An outdoor patio with a metal canopy offers refuge in all types of weather.
The variety and types of metal suitable for canopies makes the range of design opportunities unlimited. Metal offers both the ability to design with clean lines and to create canopies that take on sculptural qualities. In addition, metal canopies offer a fluid extension of a building without the cost of building additional closed-in spaces. Metal can be painted or given a patina look so it blends in with existing color palettes. Finally, since the lifespan of a metal canopy is long, maintenance costs over time are less than other materials such as wood. The creation of inviting and protected spaces, unlimited design capabilities and low maintenance costs, make metal canopies a great choice to enhance buildings and increase curb appeal.
Commercial Metal Canopy Applications

Custom metal canopies and awnings have many applications. Whether the priority is to provide sheltered outdoor seating or to create an attractive and modern front façade for a commercial or residential building, metal canopies are a great choice for:
Building Entryways
Covered Seating/Dining Areas
Outdoor Common Spaces
Walkways
Outdoor Equipment Protection


Custom Metal Canopy Manufacturing Partners

A quality manufacturer doesn't just produce architectural metal canopies, awnings, it works closely with its clients to ensure they are getting exactly what they want, creating a partnership instead of a vendor-client relationship. From conceptualization to design and delivery, our clients are involved in this collaborative approach.
Maloya Metal Fabrication and Manufacturing partners with businesses, architects, contractors, and design firms to create quality metal canopies. Contact us today to get a quote.