In evaluating the quality of fabricated metal products there are a number of manufacturing performance criteria to be considered. This will be highly dependent on the type of product being purchased. Here are some examples of leading indicators in manufacturing. Want more information on

Keyword

? Check out our Quality Assurance Services web page.


Fabricated Metal Products: Manufacturing Metrics
Aerospace Manufacturing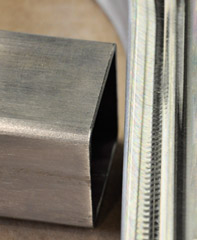 Aerospace will typically have the most stringent requirements. Most companies working in this field will require audited quality management systems such as AS9100 or ISO9001 (which is the certification held by Maloya). This requires internal and external audits to verify that documented procedures are followed and quality results are quantified for the various elements of the standards. All measurement instruments are calibrated to NIST standards and a dedicated climate controlled inspection department is in place. Rigorous understanding of GD&T (geometric dimensioning and tolerancing) is required of the employees. Chemical and physical test reports of any supplied material will be required, typically domestic or DEFAR material only. If needed Maloya is qualified to provide full FAI (first article inspection) AS9102 inspection documents.

Commercial products (process machinery, transportation, general mechanical)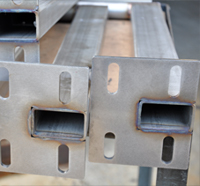 For products in this category blueprints with properly defined tolerances and finish specifications are the key to success. All of Maloya's production staff are qualified to read and interpret blueprint requirements. Depending on the need, Maloya will do a full first article inspection, final inspection and or SPC checking (statistical process control). For SPC checking Maloya utilizes the MIL-S-105 AQL sampling criteria. Surface finishes specified as per commercial standards in Appendix A can be visually qualified by Maloya staff members. Comparator tools and/or approved control samples will be utilized to qualify finishes.
Architectural and Ornamental
These products can be highly stringent in terms of cosmetic finish requirements. Often specialty and/or unique finishes are utilized such as blackened steel, non-directional polishing, mirror, weathered/oxidized organic finishes. Also costly high performance coatings are applied for exterior applications. The high performance coatings are typically warranteed by licensed applicators. It is important that material which will have such finishes applied are handled extremely carefully during the entire production process. Any scratching or defect in the substrate will most likely show up in the finished product or require extensive additional work to correct prior to applying a particular finish. Maloya's staff are well trained and acquainted in how to handle these products. Inspection of these materials can be highly subjective. For this reason it is very important to agree on a methodology for acceptance criteria.

A realistic process should define factors such as viewing duration, distance, angle, lighting. Viewing material from several inches away under fluorescent light from all angles will not be realistic or cost effective for a product which may be installed at some elevation on the side of a building.
Geometric requirements are also very important. It is very common for Maloya to produce welded architectural assemblies which may be 30'x10' in size. Here it needs to be well defined in terms of squareness and straightness. Maloya will generate a PCIR (print copy inspection record) and record the final results of the product. It is imperative that the client understands how these products will interact with an existing substructure such as the mounting system for a curtain wall. Whenever possible, it is advisable to include a variable portion of such a system. Then when the system is near full installation the client can do VIF (verify in field) measurements and Maloya can customize the final elements. This provides the best to option obtain the desired design intent and have a successful result.
Maloya: Quality Metrics in Manufacturing
Regardless of the type of project you're looking to complete, Maloya has the experience and knowledge to ensure your success. From custom engineered design and manufacture to the development of quality parts to on-time and on-budget delivery, we are your source for metal parts, products and services. Contact us today for a personalized consultation.
---
Appendix A – Metal finishes
#4 Non-Directional Angel Hair
#4 Architectural Finish – Also called Brushed, Directional or Satin Finish
A #4 Architectural Finish is characterized by fine polishing grit lines that are uniform and directional in appearance. It is produced by polishing the metal with an 80-180 grit belt or wheel finish. (65 RA – 30 RA)
#4 Dairy or Sanitary Finish
This finish is commonly used for the medical and food industry – almost exclusively used on stainless steel. Great care should be taken in removing the surface defects in the metal – like pits – that could allow bacteria to grow. This finish is produced by polishing with a 180 – 240 grit belt. (30 RA – 20 RA)
#6 Finish
Fine grain. This finish is produced by polishing with a 180 – 280 grit belt. (20 RA – 12 RA)
#7 Finish
Smooth buffed finish with a very bright appearance. Light haze. The part is belt polished with a 280 – 320 belt then buffed with a cut and color compound. This is a common finish in preparation for chrome plating, powder coating, anodizing, etc. This is a good way to keep polishing costs down when a part needs to be shiny but not flawless.
#8 Mirror Finish
"Mirror" bright finishes with clear reflection – Very light haze. All surface defects are removed. The part is buffed and then color buffed to achieve a mirror finish. The quality of this finish can depend on the quality of the metal being polished. Castings that have pits will be difficult – if not impossible polish to a #8.
True #8 Mirror Finish
No haze.
FINISH CROSS REFERENCE CHART
| | | |
| --- | --- | --- |
| Grit | RA | RMS |
| 30 | | 250 |
| 40 | | 200 |
| 60 | 145 | 150 |
| 80 | 71 | 125 |
| 100 | 61 | 69 |
| 120 | 52 | 58 |
| 150 | 42 | 47 |
| 180 | 30 | 34 |
| 220 | 20 | 22 |
| 240 | 15 | 17 |
| 320 | 12 | 14 |
| 500+ | <3 | <3 |
| 1200 | | |
| 1500 | | |